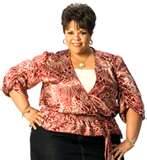 Cora Brown
is a character in Meet the Browns. She is the daughter of church deacon and entrepreneur Leroy S. Brown and Madea Simmons. Cora was born between 1953-1954 (Madea and Mr. Brown graduated from high school in 1953, according to Madea's Class Reunion and Madea became pregnant with Cora after attending her senior prom with Mr. Brown). Cora lives with her father and cousins, Will and Sasha, Joaquin, and Brianna at Brown Meadows in Decatur, Georgia.
Ad blocker interference detected!
Wikia is a free-to-use site that makes money from advertising. We have a modified experience for viewers using ad blockers

Wikia is not accessible if you've made further modifications. Remove the custom ad blocker rule(s) and the page will load as expected.