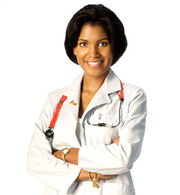 Sasha Brown R.N.
is one of the main characters in Meet The Browns. She works as a nurse and is played by Denise Boutte.
Sasha is married to Will and have two foster children, Brianna and Joaquin Ortiz. She was also pregnant with a boy at the end of season 3, however she suffered a miscariage in season 4 which is implied to be due to exercise.
Sasha works as a supervising nurse at the same hospital Will and Brown works at. She was originally a nurse until a promotion when she became Renee's superviser. With her new promotion she makes more money than Will.